These are some of my favourite links outside the region:
If you want a lovely place to stay in Sussex, my brother Nick has a wonderful Summer campsite. http://www.goldenxfarm.com
My sister Christine's Blog , 'Writing matters' - an inspirational read for any aspiring writer. Christine's first published book, 'The Dangerous Sports' Euthanasia Society' is 'absolutely brilliant'.
My brother Nicholas Coleman's site, a mixture of geneology ( Fraser's and Gordan's etc.) photographs (including originals of the Boer War) and poetry (including poems written at East Penrest). http://homepages.nildram.co.uk/~ncoleman/
My brother Chris Coleman's wonderful woodcarvings (some of which are in the barn and the farmhouse), http://www.vvc.org.uk
Paul Stanbridge, farming 500 acres of arable, 25 miles North of London. An amazingly comprehensive diary that, unlike mine, keeps up to date (or did untill very recently).
A good example of a responsible, conventional farmer. I don't envy him his problems with destructive humans.
These are links to local websites:
One of my favouritre places is Cowslip Workshops . There is a craft shop, workshops and weekly courses. All in a lovely tranquil setting and with a wonderful, mainly organic, restaurant which I can't recommend too highly for lunch.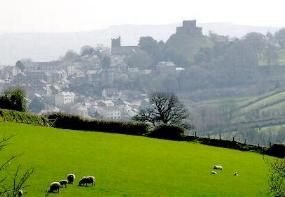 View from Cowslip Workshops